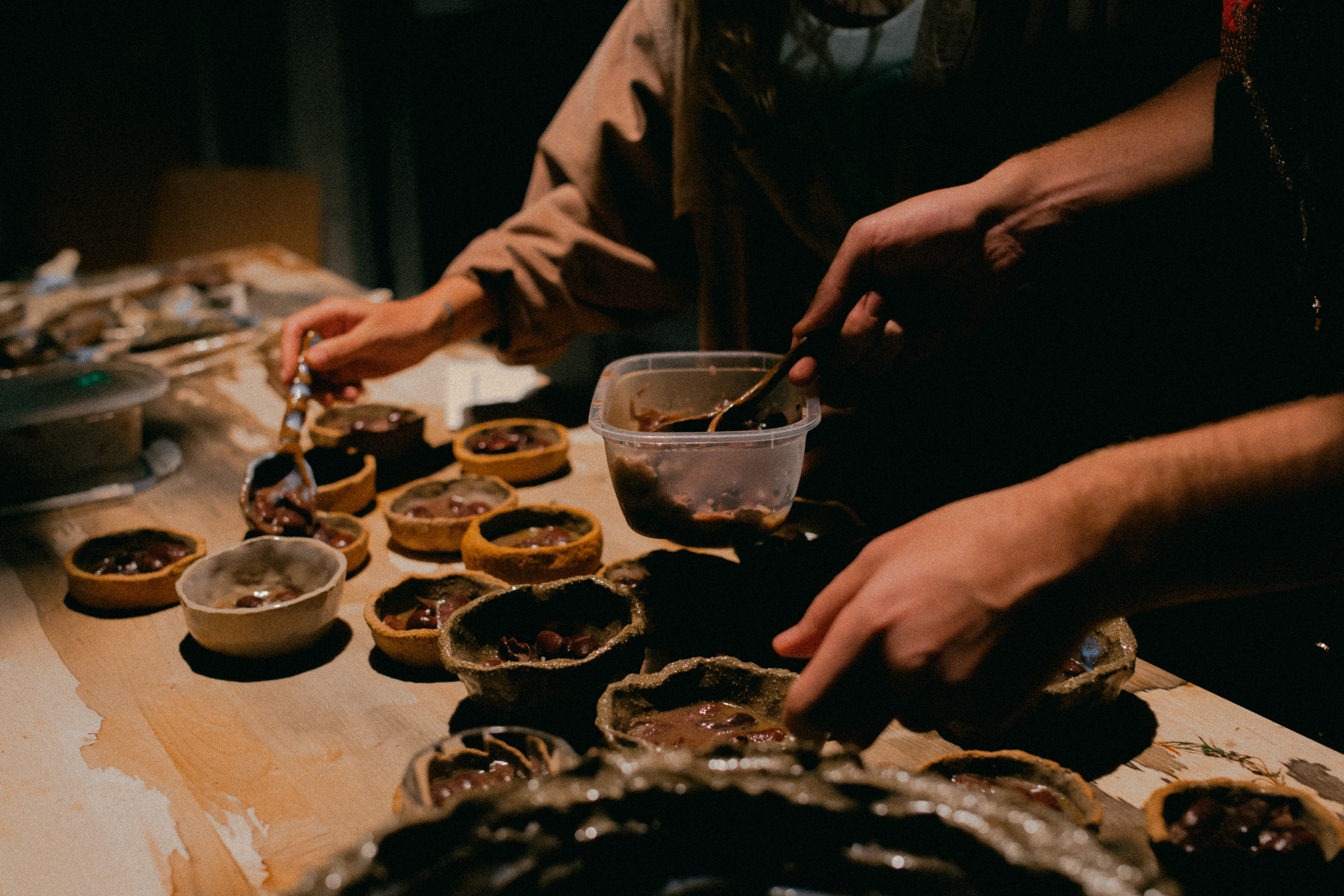 MOBILE SOILS DINNERS - OVERGROUND

2022 – Zürich

This series of three dinners is a collaboration between

arvae

, Manon Briod &

Mathieu Pochon

,

foodculture days

,

TETI Group

and

SAE Greenhouse Lab

. Together, we unfold the three chapters of the publication "Mobile Soils" by TETI Press: investigating the mineral and rooted discussions of the underground, looking at the layered and planted conversations on the ground, and finally exploring the circulating patterns across the overground.

"Overground", the final dinner of the series examines the circulation of plants and nutrients at ground level, questioning the transit of plants and seeds through various terrains. Traversing beyond the subterranean into the plane in which we most frequently encounter plant matter, the dinner investigates the cycling of nutrients amongst plants, illustrating the circulatory forms inherent to cultivation. With the participation of

Grace Denis

, Anne-Laure Franchette, Paloma Ayala, Kenza Benabderrazik and VOLUMES.

Using various texts from the final chapter of the publication Mobile Soils as a point of departure, the dinner proposes a playful and interactive methodology to consider these thematics while simultaneously delving into a research of the circulatory systems in practice at the

SAE Greenhouse Lab

, examining the role of specific plants as well as illuminating the value of nitrogen in such systems.

︎︎︎Credits:
"Underground" was hosted by TETI Group and SAE Greenhouse Lab. With contributions by Gabriel Gee, Jan van Oordt, Rafaël Newman, Caroline Wiedmer, Gnanli Landrou, Anne-Laure Franchette. The meal was concoted by Gabriel Gee and Anne-Laure Franchette. Pictures by Stéphanie Gygax.

"Ground" was hosted by arvae and SAE Greenhous Lab, the food was proposed by Mariana Murcia, with contributions by Siavash Namehshiri, Kenza Benabderrazik, Jose Caceres Mardones and Tara Lasrado. Pictures by Garage School.

"Overground" was hosted by Foodculture Days and SAE Greenhouse Lab. The food was elaborated by Grace Denis, with contributions by Anne-Laure Franchette, Paloma Ayala, Kenza Benabderrazik and VOLUMES.
Pictures by Erika Calderon.

The scenography of the three dinners were devised by Mathieu Pochon and Manon Briod.

Project realised with the support of Pro Helvetia and of the Migros Pioneer Fund.